More Liberty Lines History
Italy
In the 1890's, Antonio Bernacchia literally carted people and good from Cartoceto to Fano Italy in the Marche region. The family struggled and eventually saw hopes for the future in America. After working on the railroad in Canada they moved to Bridgeport,Connecticut to start a small Jitny service. On hearing that there were opportunities to acquire a route in Yonkers, Antonio's sons George and Joe moved and formed Bernacchia Brothers, Co in about 1925.
Bernacchia Brothers
Bernacchia Brothers began operating a few routes in Yonkers. At the time they competed with dozens of other small operators as well as trolley lines throughout Yonkers and lower Westchester. The company was successful but struggled.
By 1953 the Company was ready for the vision of the next generation.
Liberty Coaches
Cashing in their life insurance policies for $1500, George Bernacchia' s sons George and Arthur purchased 3 old busses and took over their father's last route. They rechristened the company Liberty Coaches and began to build the business.
Fifth Ave Coach & Westchester Street Transportation
Working with Fifth Avenue Coach and Westchester Street Transportation, Ray Murphy had an opportunity to take over the Westchester operations when the City of New York purchased Fifth Avenue Coach in 1962.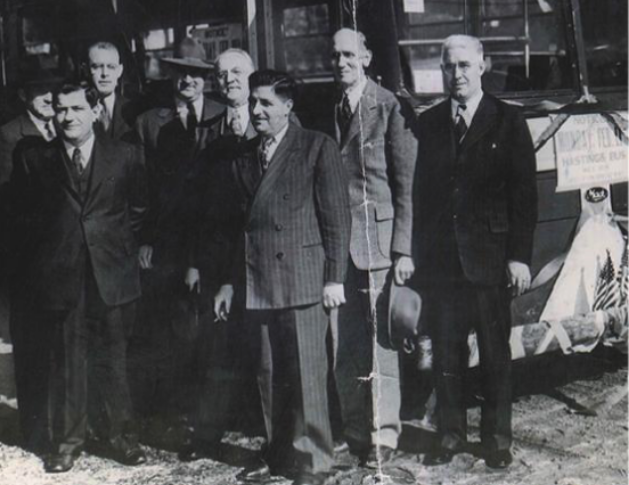 Liberty Lines & Westchester Street Transportation 1969
After years of growing the individual companies the Bernacchia and Murphy families merged their operations.
Throughout the early 1970's Liberty continued to consolidate the Transit in Westchester County. Liberty purchased Yonkers Transit and several other Companies. In the early 1970's the county still had 16 private transit companies.
Beechmont Bus Service (New Rochelle)
Bronxville Bus Lines (Yonkers)
Chappaqua Transportation Corporation (Chappaqua
Club Transportation Corporation (Yonkers)
County Bus Lines, Inc. (White Plains)
Dobbs Ferry Bus Lines (Ardsley)
Hartsdale Bus Company (Yonkers)
Liberty Coaches (Yonkers)
Mt. Kisco Bus Lines, Inc. (Somers)
PTLA Enterprise (Peekskill)
Scarsdale Bus Corporation (Scarsdale)
Victoria Transit Lines, Inc. (Mamaroneck)
West Fordham Transportation Company (Mt. Vernon)
Westchester Street Transportation Company (Mt. Vernon)
White Plains & and Pleasantville Bus Lines, Inc. (Thornwood)
White Plains Bus Company (White Plains)
The independent companies all operated without any coordination. Travel through Westchester required multiple transfers and fares , schedules were not integrated and there were often significant gape from where one route ended and the next started leaving passengers left to walk to the next bus.
Additionally the lack of coordination created economic inefficiencies in utilizing vehicles, drivers and service schedules.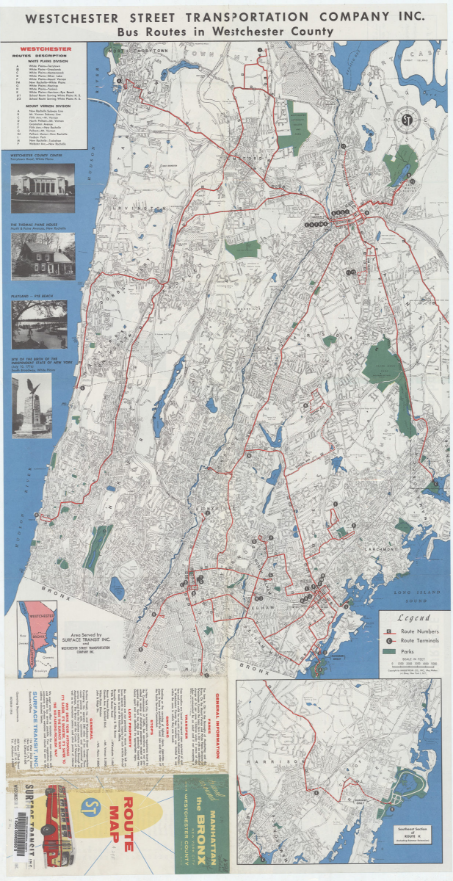 Blue Ribbon Commission 1975 – Public Private Partnership
In 1975 Blue Ribbon Panel Was commissioned to evaluate alternatives for Westchester County.
The County considered options including purchasing the private companies, establishing an authority and creating a Public / Private partnership.
The Commission recommended the Public /Private Partnership option; creating a working business relationship with the private companies. The concept would allow the County to set fares, schedules and transit policies and the private operators would be responsible for day-to-day operations, scheduling, maintenance, road supervision and labor relations.
This relationship has endured for over 40 years and is recognized as one of the most successful Partnerships in the industry.
At this time operating and equipment costs continued to rise and the community required increased service to accommodate the growing County. It was also recognized that fares needed to be low enough to be accessible to local riders. With the Public /Private partnership, the county could dedicate resources to equipment and subsidizing the fares without having to commit funds to purchasing the private companies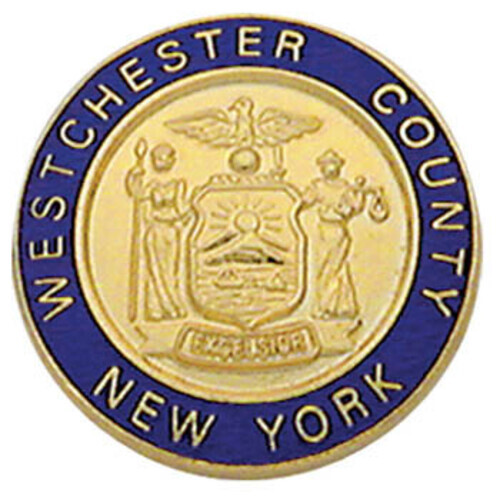 Liberty Lines / Westchester County Central Maintenance Facility Development
In August 1979, Liberty Lines Transit proposed that the County consolidate its vast transit operations with the construction of a modern state-of-the-art garage for maintenance and storage to replace the operators' inadequate facilities scattered around the County. Liberty had found the right facility in the form of the abandoned Phelps Dodge plant in Yonkers. Liberty's proposal envisioned a merger of the four largest companies then operating 90% of the system. Liberty proposed enormous cost savings demonstrated through economics of scale, enhanced efficiency attributable to Liberty Lines' proposal soon became a reality. Liberty developed the new central maintenance and storage facility, which opened on June 24, 1982, and quickly became a model for the transportation industry, which it continues to be today. The facility was privately financed by Liberty through Industrial Development agency Bonds at a cost of over $17,000,000. At the end of 1998 Westchester acquired title to the facilities. Additionally, Liberty also invested millions in the purchase and consolidation of the four major companies that were integrated and housed in the new facility.
Consolidation 1985 – 2000
As Westchester's transit needs increased, the county continued to provide funds to keep fares accessible. Additional resources became available through New York State's operating assistance Program and FTA grants for new bus procurement. As the county continued to provide resources and planning, Liberty continued make significant financial investments in the system. The remaining private companies in Westchester, Hartsdale Bus and Mount Kisco Bus were purchased in the 1990's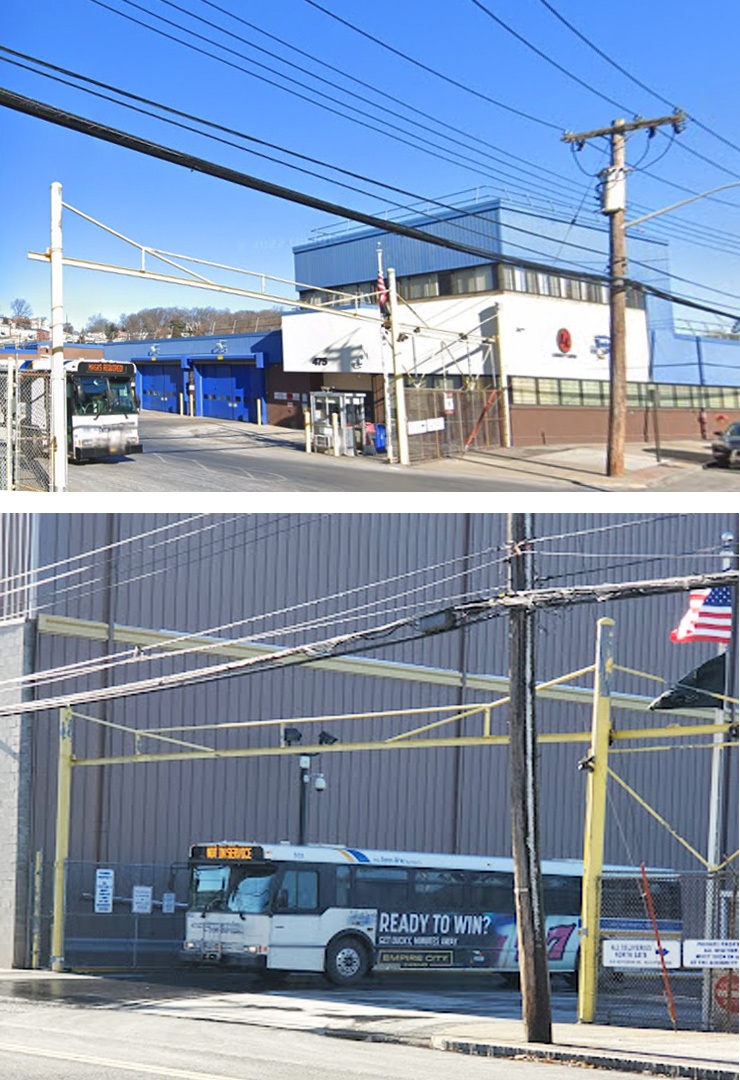 Transit evolution and benefits
Liberty's consolidation and integration of 25 separate bus companies in Westchester has created significant economies of scale and cost efficiencies for the system. As companies were purchased the individual routs were integrate and the schedules could be optimized. Interlining or the utilization of vehicles and drivers on multiple routs created enormous savings. Driver could be scheduled more effectively as the system grew. Maintenance was improved and consolidated in fewer facilities and management was more efficient and effective.
In addition to the capital investment in acquiring companies, Liberty committed resources to the development and implementation of the systems, policies and procedures to improve management, operations and maintenance. Detailed policies procedures have been designed and implemented for all aspects of the operation including;
Driver training and safety
Vehicle and driver scheduling
Operational management and road supervision
Maintenance standards and procedures
Human resources and Labor Relations
Financial management and oversight
Integral to liberty's management is the long relationship with Transit Workers Union local 100.
Liberty has the direct managerial responsibility for all union relationships. Liberty and the TWU jointly manage the Pension Trust and the Health Trust for employee benefits. All Union Contracts are negotiated and managed by Liberty.